Panaroma Finance deltar som utstiller i Future Blockchain Summit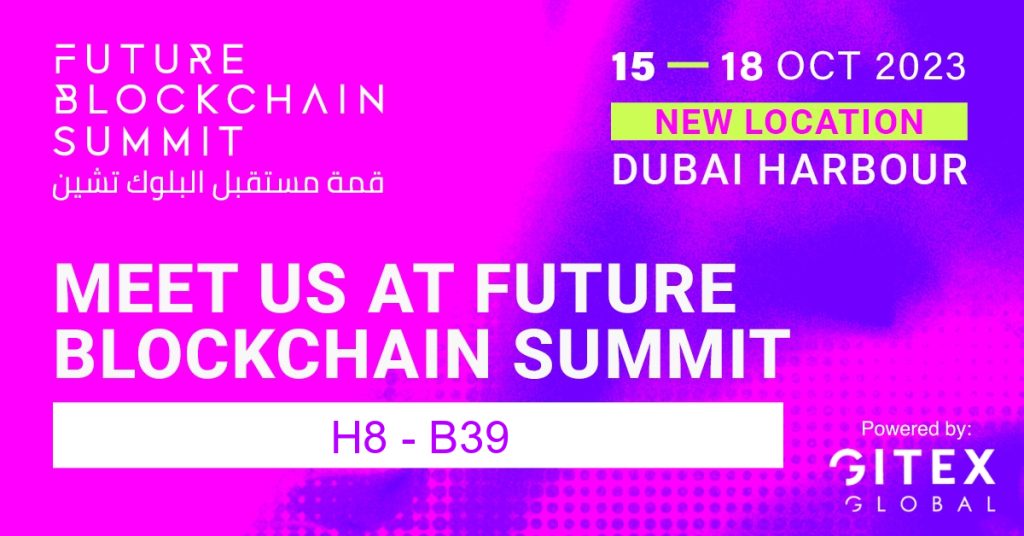 Dubai, ofte hyllet som verdens nest største kryptoknutepunkt, er i ferd med å være vitne til en banebrytende begivenhet. Future Blockchain Summit, kjent som MENA-regionens mest oppslukende storskala blockchain-arrangement, flytter til Dubai Harbour fra 15.–18. oktober 2023. Med et nytt perspektiv rettet mot å styrke forstyrrere, endringsskapere og innovatører i Web 3.0, Blockchain, Crypto, NFT, Metaverse og Gaming sfære, dette toppmøtet lover en enestående blokkjedeopplevelse.
Toppmøtet avduket
I fire dynamiske dager vil industriledere samles på Future Blockchain Summit, gripe en rekke nettverksmuligheter, hente ut verdifull innsikt fra en informasjonsfylt agenda, kjempe om vekstfinansiering i Supernova Challenge, delta i Investors Program & Forum, finpusse ekspertise innen akademiske mesterklasser, og fordype seg i spenningen til et Web 3.0 Gaming Showdown.
Panaroma Finance: Shaping the Future
Som ivrige talsmenn for finansiell innovasjon, kunngjør Panaroma Finance stolt sin deltakelse som utstillere i denne monumentale begivenheten. Panaroma Finance er plassert i forkant av blockchain-evolusjonen, og samsvarer sømløst med etosen til Future Blockchain Summit.
Søkelys på Nitin Jagtiani: Revolutionizing DeFi
I tillegg til utstillingen vår, vil Mr. Nitin Jagtiani, administrerende direktør for Panaroma Finance, holde en innsiktsfull tale. Emnet, «Revolutionizing DeFi: Panaroma Swap Exchange – Pioneering AMM Protocol with On-Chain AML Compliance,» er satt til å belyse publikum om banebrytende fremskritt i det desentraliserte finansområdet.
Møt oss på Future Blockchain Summit
For en førstehåndsopplevelse av fremtidens finans, møt oss på stand H8-B39, hall 8. Delta i samtaler, få innsikt og bli en del av den finansielle revolusjonen.
Konklusjon
Future Blockchain Summit 2023 lover å bli en transformativ begivenhet, som tilbyr en plattform for samarbeid, læring og innovasjon. Når vi legger ut på denne reisen, er Panaroma Finance klar til å ta betydelige fremskritt i utviklingen av finans og teknologi.
Følg med for flere oppdateringer og innsikt fra Future Blockchain Summit 2023!
---