Dive Deeper with Panaroma Swap Analytics Application: Unveiling Insights for a Brighter Tomorrow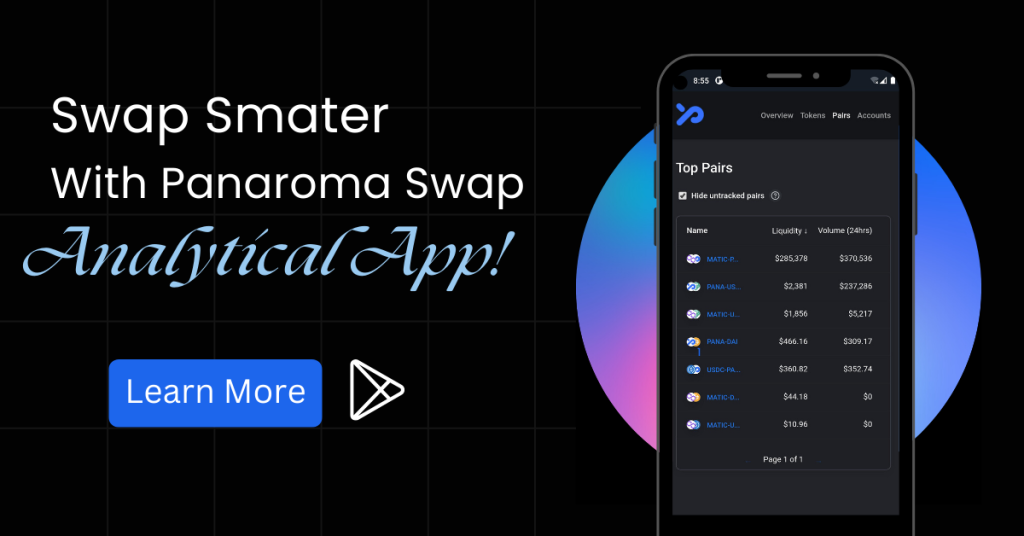 Hello Panaroma Swap Enthusiasts, 
Excitement is in the air as we announce a significant leap forward in the world of decentralized finance. We're on the brink of introducing a powerful tool that's set to transform your trading experience and take your understanding of Panaroma Swap to new heights. Yes, you guessed it right—introducing the Panaroma Swap Analytics Application, slated for launch by the 15th of October 2023, accessible on both web and mobile (Android and iOS) platforms. 
The Power of Insights: What to Expect
Our team has been hard at work crafting a comprehensive analytics application to offer a glimpse into the inner workings of Panaroma Swap, deployed on the Polygon Network. This application is meticulously designed to be highly intuitive and informative, empowering you with the knowledge you need to make informed decisions in the world of decentralized finance. 
Key Features of the Analytics Application:
Customization for You

: Tailor the analytics to suit your preferences and requirements. Customize the data and insights you want to see, ensuring a personalized experience.

 

Comprehensive Data at Your Fingertips

: Gain access to a wealth of data, including trends, liquidity statistics, trading volumes, and more. Navigate effortlessly through the various metrics and gain a deeper understanding of the platform's performance.

 

Seamless User Experience

: The app boasts an intuitive interface, making it easy to navigate and understand. Dive into the data effortlessly and gather the insights you need for a successful trading journey.

 
A Step Towards Transparency and Progress
At Panaroma Swap, transparency is a core value we hold dear. With the Panaroma Swap Analytics Application, we are taking a significant step towards offering complete transparency to our community. We want you to be a part of this journey with us, armed with the insights needed to make well-informed choices. 
This application aligns with our broader vision of enhancing user experience and fostering a stronger community within the decentralized finance landscape. By providing you with the tools and knowledge to make intelligent decisions, we aim to not only benefit you but also elevate the Panaroma Swap ecosystem as a whole. 
Join the Analytics Revolution
As we stand on the verge of this monumental launch, we invite you to embrace the power of insights. Prepare to unlock a world of analytics that will shape your trading strategies, bringing you closer to your financial goals. 
Stay tuned for the launch of the Panaroma Swap Analytics Application on the 15th of October 2023. Together, let's chart a course towards a brighter and more prosperous future in the decentralized finance universe. 
---